The future of entrepreneurship in Southeast Asia is digital, socially impactful and powered by women. The Indonesia Women Empowerment Fund (IWEF) and Creatella Impact are proud to present "SheDisrupts Indonesia 2021", a fully digital venture competition for Indonesian women entrepreneurs, in partnership with UN Women, UNDP, and Citibank. Applications are now open at https://she-disrupts.org/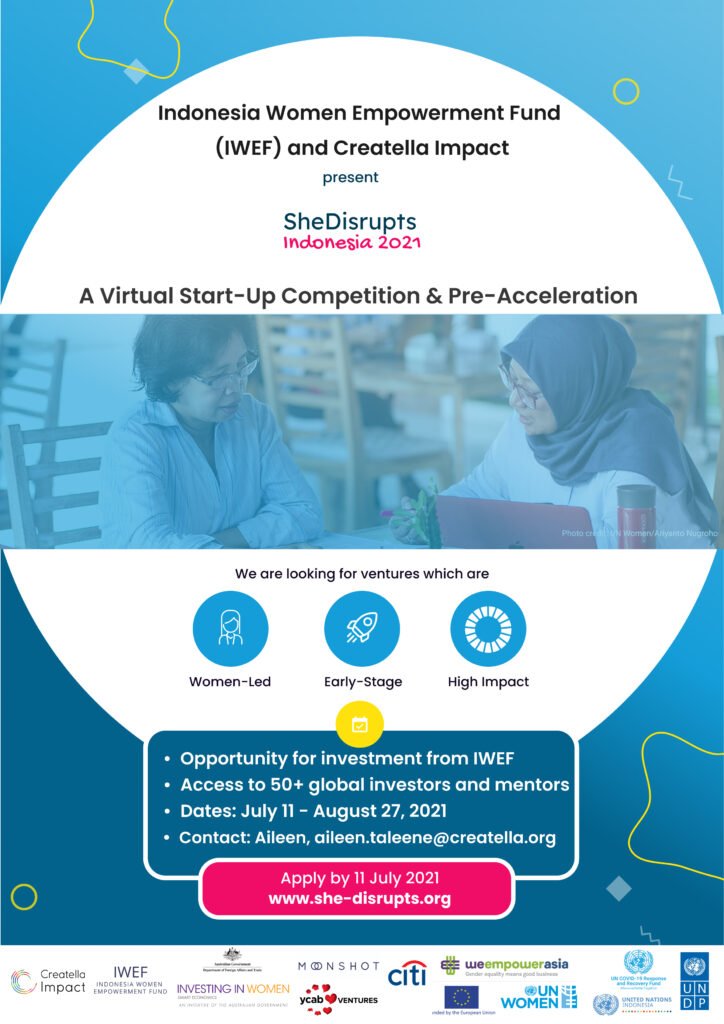 Unlocking the potential of Indonesian women social entrepreneurs
What does sustainable development have in common with tech-driven, female entrepreneurship? They both represent the future of one of the most promising economies of Southeast Asia. The venture competition and pre-acceleration program SheDisrupts marks one year since the launch of IWEF (Indonesia Women Empowerment Fund), and is organized as a collaboration of three impact investors – Creatella Impact, Moonshot Ventures and YCAB ventures – as well as UN Women and UNDP . IWEF is a great addition to the Indonesian women entrepreneurship landscape, which is characterised by an emphasis on sustainable, innovative and inclusive business models. IWEF aims to address barriers to women's economic empowerment by investing in disruptive tech solutions led by women entrepreneurs. The targeted USD 10 million fund is jointly managed by YCAB Ventures and Moonshot Ventures, with Investing in Women, a program of the Australian Government, as sponsor investor.
In spite of the global Covid-19 crisis, the economy of Indonesia still stands out as one of the fastest growing in the world. Its main driver is micro, small and medium enterprises (MSMEs), almost half of which are owned or led by women. Unfortunately, however, Indonesian women face higher barriers as entrepreneurs, such as greater difficulty in accessing financial support. These barriers come at great expense to the local economy, estimated at USD $135bn.
Harnessing the still largely untapped economic potential of women entrepreneurs in the powerhouse economy of Southeast Asia can improve the social and economic resilience of the whole region in the post-Covid era. The newly launched programme SheDisrupts Indonesia 2021 aims at bridging the existing gaps by supporting women-led Indonesian startups.
"SheDisrupts Indonesia 2021 allows us to provide the hands-on support for tech women entrepreneurs that is a hallmark of IWEF, to a much wider audience. The competition and pre-accelerator will give teams access to experienced mentors and experts who are passionate about supporting more women-led businesses," said Tom Schmittzehe, Managing Partner of Moonshot Ventures.
The programme features a venture competition and pre-acceleration programme for innovative startups. It is fully conducted in a remote and digital format, connecting participants with seasoned mentors, judges and facilitators from every corner of the world.
"A year after our launch, SheDisrupts Indonesia 2021 allows us to scale IWEF's reach – it sets the foundation for us to build a supportive community of founders, whether first-time or veterans, and to create peer mentoring opportunities that we know are critical in helping these women overcome the many barriers in growing their business," said Stella Tambunan, CEO of YCAB Ventures.
About the programme and the eligibility criteria
The venture competition kicking off on July 19 is the first of two parts of SheDisrupts Indonesia 2021, and is designed to provide founders and their teams with essential business and pitching skills, as well as with a platform to showcase their businesses to an international audience.
"Combining tech knowledge and tools with training on business and impact management, offers a massive value proposition for women-led enterprises, inspires more women to pursue entrepreneurial activities and innovative business models contributing to economic progress and SDGs. That's why Creatella Impact promotes creative use of ICTs as a platform to raise the agency of businesswomen and women's economic empowerment," said Guillaume Catella, Co-Executive Director of Creatella Impact.
The 20 most outstanding participants from the competition will then be invited to join an intense 2-weeks pre-acceleration program, which will cover topics including business development, technology, marketing and financial skills, as well as topics specific to impact measurement and women's economic empowerment.
According to Muhammad Didi Hardiana, Technical Advisor Development Finance, Head of the Innovative Financing Lab (IFLab) at UNDP, "Women play an important role in uplifting communities and economies. COVID-19 has widened the gap between women and men even within the entrepreneurial ecosystem. UNDP is delighted to collaborate in SheDisrupts Indonesia 2021 to strengthen the local entrepreneurship ecosystem, likewise empower women entrepreneurs to reach their highest potential and create a positive impact in various areas whilst contributing to the SDGs".
The program welcomes applications from early-stage startups (Pre-Seed to Pre-Series A), ideally with a clearly developed product idea and some traction, and with at least one woman among the founders or in a leadership role. The program targets entrepreneurs who are developing solutions with a particular focus on gender parity and women's economic empowerment. The program is industry agnostic: candidates may come from the world of health-tech, edtech, fintech – or any other.
"By supporting SheDisrupts, UN Women hopes to open opportunities for women to become drivers of change through their start-ups. Through our WeEmpowerAsia project, we are proud to work with industry partners in this competition, to ensure that technology-based solutions are geared towards gender equality in the country," said Dwi Faiz, Head of Programme at UN Women Indonesia.
The application criteria for the venture competition at a glance:
For-profit social startups whose target market is Indonesia
Women-led or gender-balanced teams
Early-stage, from MVP to early traction
With a product or service that disproportionately improves women's economic empowerment
Tech or innovation driven
"We see a great potential in women, particularly in their role to advance the country's economy during this digital era. We are proud to support this year's SheDisrupts as this is fully aligned with our commitment to empower women and to contribute to gender equality as stated in SDG 5," stated Puni A. Anjungsari, Country Head of Corporate Affairs, Citi Indonesia.
For entrepreneurs and founding teams who are interested in taking part in the programme, please apply at she-disrupts.org. The application deadline is July the 11th 2021, at 23:59 WIB.
About the Organizers of SheDisrupts 2021:
IWEF
The Indonesia Women Empowerment Fund (IWEF) addresses barriers to women's economic empowerment by investing in disruptive tech solutions, led by gender-balanced startup teams.
Website: moonshotventures.org/about-iwef
Contact: info@moonshotventures.org
Creatella Impact
For early stage social enterprises in emerging markets, committed to providing entrepreneurial innovative solutions for the achievement of SDGs by generating measurable social and environmental impact, Creatella Impact provides venture building, technology execution, mentorship, advisory support, other acceleration programmes, impact investment including financial capital, deal syndication, blended funding and diverse financial instruments.
Website: creatella.org
Contact: aileen.taleene@creatella.org
Moonshot Ventures
Moonshot Ventures is a venture capital firm that addresses development challenges faced by emerging economies in Southeast Asia. We invest in disruptive innovations and mission-driven entrepreneurs, in order to achieve large-scale impact.
Website: moonshotventures.org
YCAB Ventures
YCAB Ventures was born out of YCAB Foundation's ambition to create a thriving world where youth and mothers are empowered through love, hope and opportunity to be liberated from generational poverty in sustainable ways. YCAB Social Enterprise uses a social investment approach in maximizing its social and economic impacts. The fund from social investment then invested in mission driven ultra-microfinance through YCAB Ventures. By providing capital to women-led ultra-micro business, YCAB Ventures aim to improve income stability in the family, leading to opportunities of better education for their children.
Website: ycabventures.com
UNDP
UN Development Programme (UNDP) is the leading United Nations organization fighting to end the injustice of poverty, inequality, and climate change. Working with our broad network of experts and partners in 170 countries, we help nations to build integrated, lasting solutions for people and planet.
Website: undp.org
UN Women
UN Women is the United Nations organization dedicated to gender equality and the empowerment of women. A global champion for women and girls, the organization was established in 2010 to accelerate progress on women's rights worldwide. UN Women's efforts are based on the fundamental belief that every woman has the right to live a life free from violence, poverty, and discrimination, and that gender equality is a prerequisite to achieving global development. WeEmpowerAsia is a UN Women programme funded by and in partnership with the European Union that seeks to increase the number of women who lead and participate in business in China, India, Indonesia, Malaysia, the Philippines, Thailand and Viet Nam.
Website: http://weempowerasia.org
Citibank
Citibank is the financial subsidiary of Citigroup. Through our core business and philanthropy, we address some of society's greatest challenges—an imperative stated in our mission and an idea that shapes our decisions every day.
Website: citibank.org