Formula of success: perspectives from founders and investors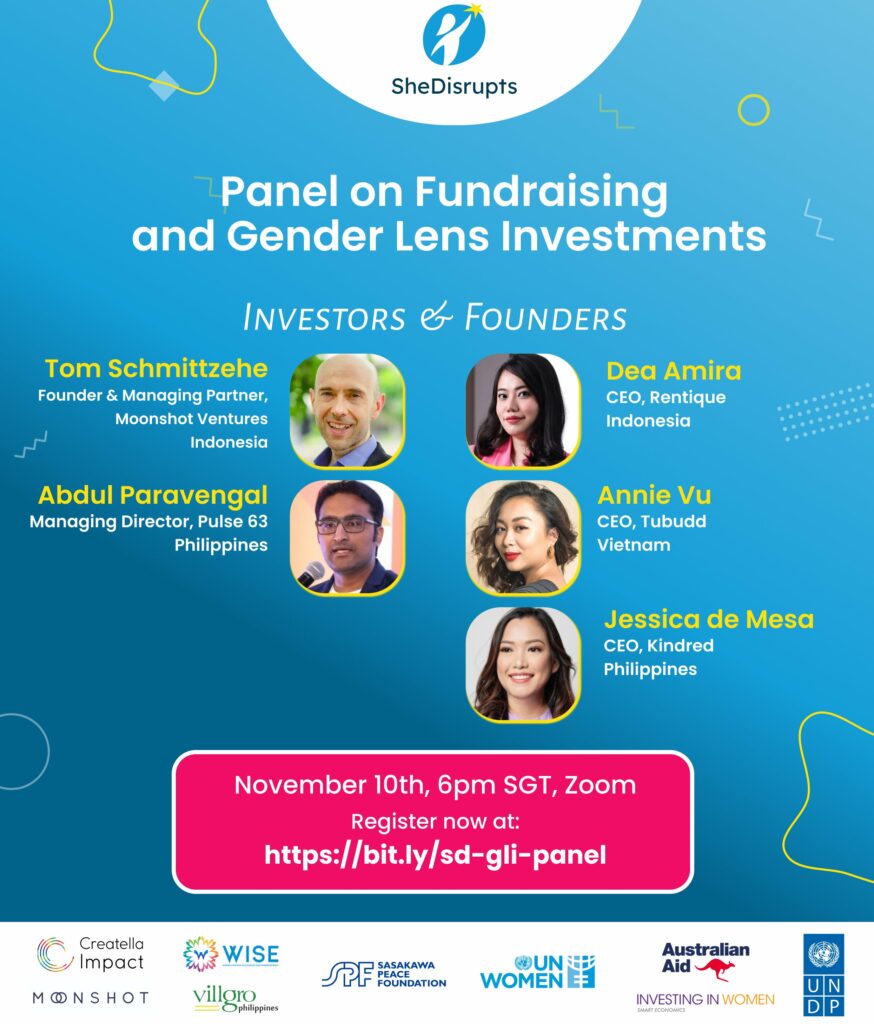 On Thursday, November 10, 2022, at 18:00 SGT, three talented female founders from SheDisrupts programs in Indonesia, Vietnam and Philippines and early stage impact investors from the region will share their experiences, practical tips and advice on how to succeed in raising funds and investing using GLI lens.
➜ Registration link: https://bit.ly/sd-gli-panel

Panelists founders:
Dea Amira, CEO of Rentique, SheDisrupts Indonesia 2021 alumni
Annie Vu, CEO & Co-Founder of Tubudd, SheDisrupts Vietnam 2021 alumni
Jessica de Mesa, CEO & Co-Founder of Kindred, WE Rise x SheDisrupts Philippines 2022 alumni
Panelists investors:
Tom Schmittzehe, Founder & Managing Partner, Moonshot Ventures
Abdul Paravengal, Managing Director, Pulse 63
Moderators:
Guillaume Catella, Co-founder and Co-executive Director of Creatella Impact
Karen Vardanyan, Co-founder and Co-executive Director of Creatella Impact
Attendance:
Open to public, anyone interested in early stage GLI investments
SheDisrupts programs participants
Gender Lens Investing
Every new dollar flowing into women led businesses is a contribution towards more inclusive growth, gender equal and just society. There is increasing evidence that gender equality will lead to better financial and social outcomes of investments.
Investing with a gender lens entails gender analysis of investment activities, factoring gender lens in identifying investment opportunities, assessing risks and returns, structuring deals and making investment decisions. The panelists will discuss practical hints and tips on how to succeed in GLI fundraising and investing, how to use intentionally and strategically gender lens during fundraising and capital allocation.
SheDisrupts
SheDisrupts programs (SD) upskill promising women founders of early-stage startups and enhance their access to capital. SD focuses on social impact startups in emerging markets which use disruptive tech solutions and market forces for systemic social change and direct contribution to the SDGs. SD offers to the business founders mentorship and pre-acceleration training using a high-impact curriculum on business, tech, impact and women competencies. The founders learn how to enhance their business and impact models and how to expand their fundraising opportunities and become investment ready.
SD has been developed by Creatella Impact and the Indonesian Women Empowerment Fund (IWEF), an initiative by Moonshot Ventures and YCAB and was first implemented in Indonesia in 2021. Creatella Impact implemented the SD program jointly with WISE in Vietnam and jointly with Villgro Philippines in the Philippines in 2022. SD sponsors are Investing in Women (an Initiative of the Australian Government), Sasakawa Peace Foundation, UNDP, UN Women, GSRD Foundation, Global Affairs Canada, Citi.
Creatella Impact
For early stage social enterprises in emerging markets, committed to providing entrepreneurial innovative solutions for the achievement of the UN Sustainable Development Goals by generating measurable social and environmental impact, Creatella Impact provides venture building, technology execution, mentorship, advisory support, other acceleration programmes, impact investment following gender lens investing approach, financial capital and deal syndication. Creatella Impact leverages the capacities of Creatella Venture Builder.
Rentique
Rentique is Indonesia's #1 fashion rental and resale platform based on mobile app, with more than 250k users and 3000+ collections. Rentique is on a mission to revolutionize fashion and empower women to feel confident about themselves by wearing beautiful clothes that are affordable and sustainable.
TUBUDD
TUBUDD is an innovative platform web and app that offers a unique and limitless service by connecting travelers to local experts, aka, local buddies. They are 100% the local people who are great at different languages such as English, French, German, Korean, Chinese etc. Available in nearly 10 countries, 14 cities and nearly 500 local buddies all around the world, TUBUDD is the solution for travelers to experience the local point of view and get closer to local culture with a human touch introduction.
Kindred
Kindred's mission is to transform the conversation around women's health by creating a safe space to raise issues, ask questions, and explore options without stigma or judgment. That means building a community of women with access to our team of knowledgeable and empathetic medical experts and suite of services and tools, so they are informed and empowered to advocate for their own well-being.
Moonshot Ventures
Moonshot Ventures is an impact investor with a mission to address the leading social and environmental issues faced in Southeast Asia today. To achieve this, we support purpose-driven founders and startups, and we work with them to build innovative and disruptive solutions. The support we provide is focused around investment, venture building and in-kind assistance programs. A strong focus of Moonshot Ventures is in supporting women entrepreneurs and solutions that improve livelihoods for women.
Pulse 63 Healthcare Ventures
Pulse 63 Healthcare Ventures ideates, partners or invests in life-changing ventures to accelerate access & quality across healthcare in the Philippines & beyond. Portfolio companies include Kindred, Mediclick, Anna & Committed Health.