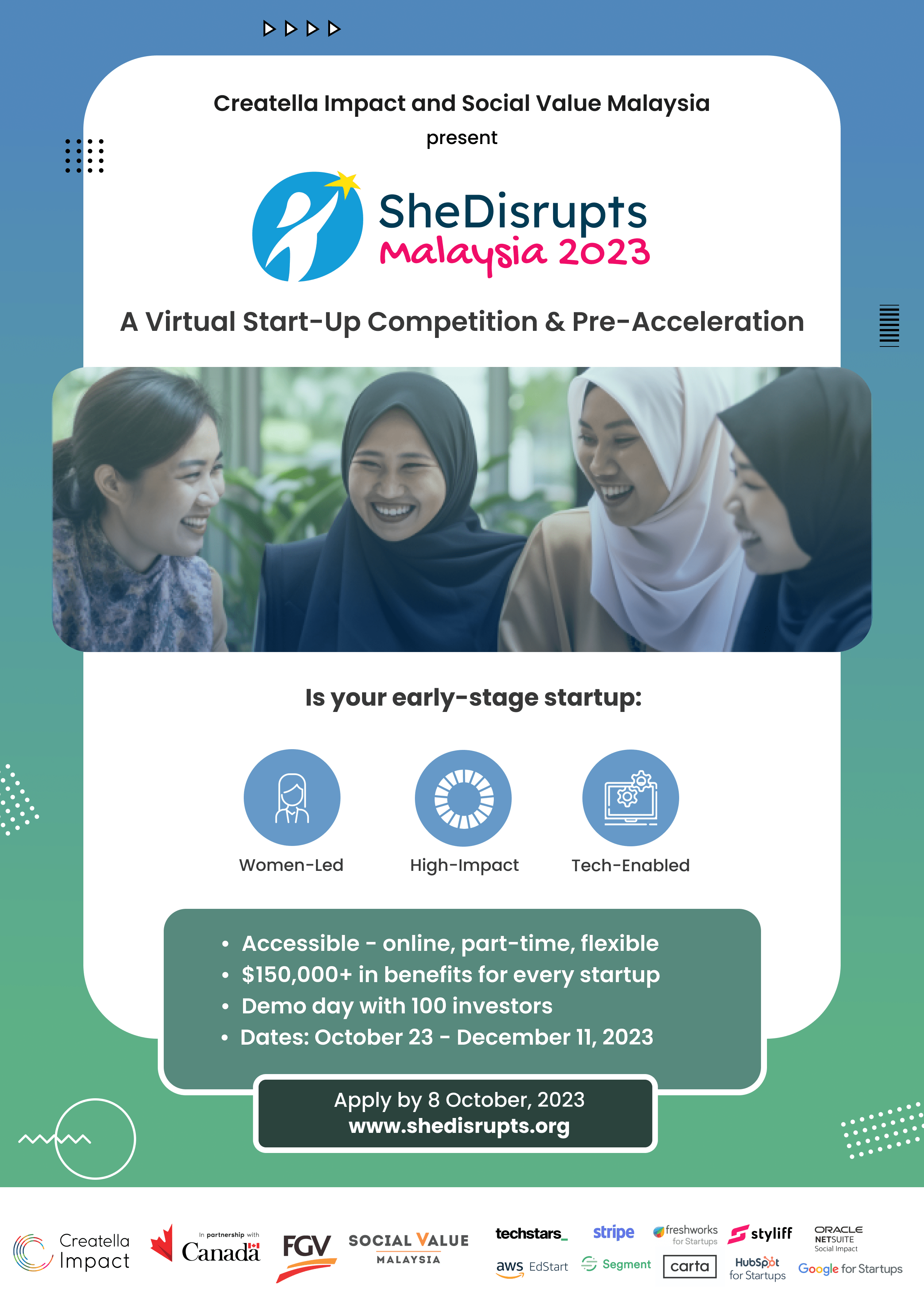 The future of entrepreneurship in Southeast Asia is digital, socially influential, and powered by women. Creatella Impact and Global Affairs Canada are proud to present "SheDisrupts Malaysia 2023", a fully virtual venture competition, mentorship, and pre-accelerating training program for women entrepreneurs in Malaysia. Applications are now open at https://shedisrupts.org/malaysia2023/ .
Unlocking the potential of women entrepreneurs in Malaysia

What does sustainable development have in common with tech-driven, female entrepreneurship? They both represent the future of one of the most promising economies of Southeast Asia.

After successfully implementing SheDisrupts programs in Indonesia and Vietnam, Creatella Impact is proAfter successfully implementing SheDisrupts programs twice in Indonesia, Vietnam, and the Philippines, Creatella Impact is proud to join forces with Global Affairs Canada and Social Value Malaysia to organize SheDisrupts Malaysia, a new venture competition, mentorship, and pre-acceleration programme in Malaysia. The programme also received support from FGV Holdings Berhad, Malaysia's leading global agribusiness which is committed to continuously drive a sustainable business.
A particular focus of this program will be to facilitate more gender lens investments (GLI) into women-led startups in Malaysia. The program will leverage women entrepreneurs, investors, ecosystem enablers, and agencies that support women entrepreneurship, to support ambitious women entrepreneurs in Malaysia to scale their businesses and raise growth capital. The SheDisrupts community offers not only technical knowledge and skills, but it also creates a safe space for women entrepreneurs to connect, learn, collaborate, and grow with each other.

Along with mentorship and world-class training, participating startups will have the opportunity to get an entry to Techstars, receive AWS credits from AWS EdStart, fee-free processing with Stripe, a 2-hour design workshop with Styliff Tech, up to 82,000 USD savings with Hubspot, 50,000 USD worth of Segment credits, 10,000 USD worth of Freshwork credit, up to 20,000 USD from Creatella, and software donation from Oracle Netsuite.
Addressing gender equality has emerged as a critical challenge for Malaysia, with significant implications for its economic progress. Despite women constituting 48.4% of the country's working-age population, their representation in the labor market remains limited, with only 55.5% participating in 2021, and a mere 39% contributing to the labor force. The Asia Pacific region stands to gain an astounding $4.5 trillion annually in GDP by 2025 through accelerated strides towards gender parity. Recognizing the role of Micro, Small, and Medium Enterprises (MSMEs) as vital contributors to Malaysia's economy, it is imperative to harness the potential of these enterprises for fostering gender balance. With over 1.15 million MSMEs, accounting for more than 97% of the nation's businesses and 38.2% of GDP, they employ 7.25 million people, making up 41.8% of total enterprises, with 52% of employees being women. Notably, women ownership of total MSMEs stands at 20.8%. Embracing gender equality within this sector could yield profound economic and social benefits, charting a course toward a more inclusive and prosperous Malaysia.
The High Commissioner of Canada in Malaysia, Wayne Robson, fully supports unlocking the potential of female-led entrepreneurship in Malaysia. He believes that the full and equal participation of women in the economy is not just the right thing to do; it's the smart thing to do.
By providing support to women-led startups, "SheDisrupts Malaysia 2023" programme strives to narrow the existing gaps and contribute to the nation's economic advancement. With gender equality being a critical concern, especially in light of statistics showing limited female representation in the labor market despite their substantial portion of the working-age population, programmes like "SheDisrupts Malaysia 2023" are crucial.
"Social Value Malaysia's active partnership in the SheDisrupt program exemplifies its commitment towards sustainability, social impact, and social value. As a pioneering entity in social value and impact management and measurement in Malaysia, SVM recognises the importance of fostering equitable opportunities in the tech industry for women entrepreneurs", said Jane Chang, co-founder of Social Value Malaysia.
About the programme and the eligibility criteria
The programme features a venture competition, mentorships, and pre-acceleration training for women-led and women-owned innovative startups. It is fully conducted in a remote and digital format, connecting participants with seasoned mentors, judges and facilitators from Malaysia, Southeast Asia, Europe, USA and Canada.
"We are proud to continue the series of the SheDisrupts programs in Southeast Asia and support talented women entrepreneurs from Malaysia, who lead promising and impact oriented startups. Via SheDisrupts programs, we promote a paradigm shift from including women to empowering them as influential agents of change. At the same time, we contribute to bridging the gap in Sustainable Development Goals and achieving gender equality" said Karen Vardanyan, Co-Executive Director of Creatella Impact.
The program will commence with online application and venture competition from August 28 to October 8, 2023. Up to fifty teams will be selected for the mentoring and judging sessions, scheduled from October 23 to November 10, 2023. The mentoring sessions are designed to provide founders and their teams with essential business and pitching skills, as well as offer a platform to showcase their businesses to an international audience, including investors.
The 20 most outstanding participants will then be invited to join an intense 3-week pre-acceleration program starting on November 20, 2023, which will cover topics including business development, technology, marketing, and financial skills, as well as topics specific to impact measurement and women's economic empowerment. Experienced academic facilitators from lead business schools as well as practitioners from Social Value Malaysia and other organizations will facilitate pre-acceleration training sessions.
At the end of the pre-acceleration training, all participants will pitch live in front of GLI investors and receive continuous support with investor introductions.
The application criteria for the venture competition at a glance:
The program welcomes applications from early-stage startups with a clearly developed product idea and some traction, and with at least one woman among the founders or in a leadership role, with women having 20% or more ownership of the entity. The program targets entrepreneurs who are either from Malaysia or target their products and services to the Malaysian market. Businesses need to address market inefficiencies and offer solutions that contribute to one or more of the UN Sustainable Development Goals and preferably have a positive impact on gender parity and women's economic empowerment and are tech or innovation-driven. The program is industry agnostic: candidates may come from the world of health-tech, edtech, fintech – or any other.
The organizers encourage women entrepreneurs from rural provinces and component cities, as well as minority representatives to apply for this program. Entrepreneurs and founding teams interested in taking part in the programme can apply at https://shedisrupts.org/malaysia2023/ . The application deadline is October 8, 2023, 23:59 MYT.
About the Organizers and Partners of SheDisrupts Malaysia 2023:
Creatella Impact
For early stage social enterprises in emerging markets, committed to providing entrepreneurial innovative solutions for the achievement of SDGs by generating measurable social and environmental impact, Creatella Impact provides venture building, technology execution, mentorship, advisory support, other acceleration programmes, impact investment including financial capital, deal syndication, blended funding and diverse financial instruments.
Website: creatella.org
Contact: programs@creatella.org
Global Affairs Canada
Through the High Commission of Canada in Malaysia, Canada engages in strategic advocacy and supports programming to promote Canadian values. Partnering with Malaysian civil society organisations, areas of focus include strengthening democratic values, supporting vulnerable groups (2SLGBTQI+, women, indigenous peoples and victims of sexual violence), promoting freedom of expression, and diversity and inclusion.
Since 2013, the Canada Fund for Local Initiatives has deployed over $1 million in support of 30 projects led by local partners in these areas.
Canada's ASEAN regional development program aims to strengthen the empowerment of the poor and most vulnerable people in ASEAN countries with a particular focus on women and girls.
Website: https://www.international.gc.ca/
Social Value Malaysia
Social Value Malaysia is the first social value and impact management quality setters in Malaysia. We create unique services based on evidence and credible frameworks with international accreditation to manage and measure social value and impact. We understand sustainability, SDG impact, social impact, and social value by helping our clients and partners with insightful and customized plans backed by relevant industry experience and research.
Website: https://socialvaluemalaysia.org/
FGV Holdings Berhad
FGV Holdings Berhad (FGV) is Malaysia's leading global agribusiness and is one of the world's largest producers of crude palm oil. With a workforce of more than 51,000, FGV is fully committed to continuously drive a sustainable business, whilst tapping into new revenue streams from the circular economy to create more value. Guided by its Group Sustainability Policy, which encompasses pillars on promoting economic growth, respecting human rights, and protecting the environment, FGV's sustainability initiatives cover a wide range of focus areas including upholding labour standards, advancing gender equality and women empowerment, promoting wildlife and biodiversity conservation, climate action and traceability, among others.
Website: https://www.fgvholdings.com