The Indonesian Women Empowerment Fund (IWEF) and Creatella Impact are pleased to announce the winners of the venture competition SheDisrupts Indonesia 2021. The competition is launched in partnership with Moonshot Ventures, YCAB Ventures, Investing in Women, UNDP, UN Women, and Citibank. The 24 successful women-led social startups will be entering an intensive 2-week pre-acceleration beginning August 16. The pre-acceleration will culminate in a virtual Demo Day on Friday, August 27.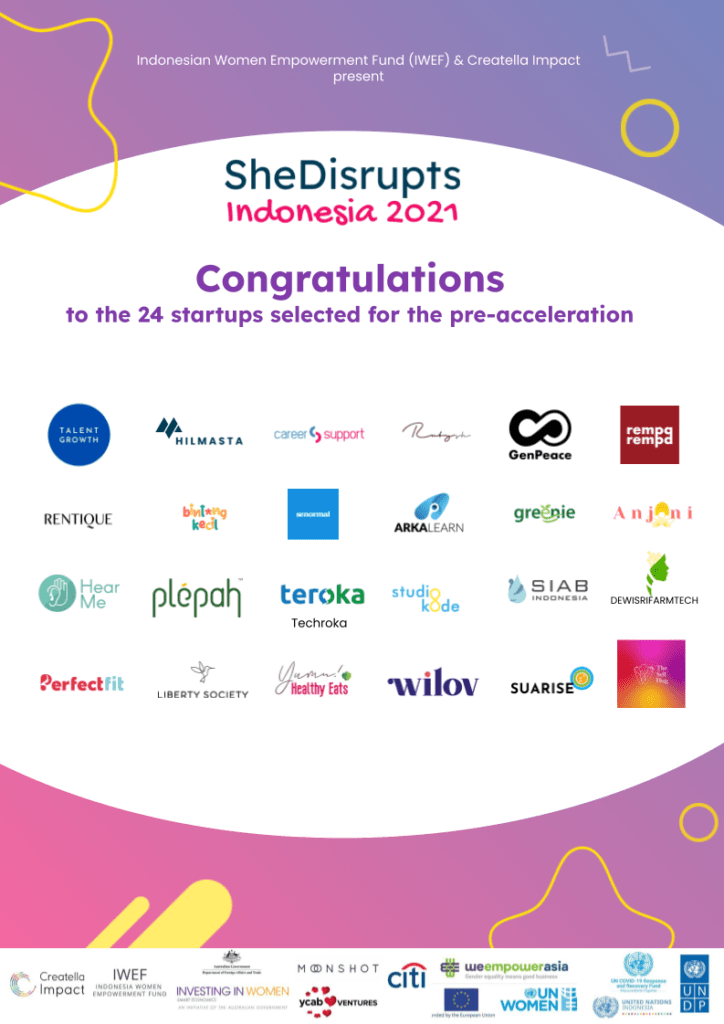 On August 6, after being shortlisted from a pool of close to 80 applicants, 50 talented teams pitched in front of expert mentors and judges in a 2-round, fully virtual venture competition. 24 startups stood out from the crowd and were announced as winners of the contest.
These leading ventures are extremely diverse. Their products span over different industries, each exemplifying a unique approach to business, as well as a dedication to important social issues. What they all have in common is the presence of strong-willed women founders, gender-balanced teams, a focus on the Indonesian market, and a keen eye for innovative tech-for-good solutions to complex challenges.
Their names are: Anjani, ArkaLearn, Bintang Kecil, Career.Support, DEWISRIFARMTECH, GenPeace, Greenie Indonesia, Hear Me, Hilmasta, Liberty Society, Perfect Fit, Plépah, remparempa, Rentique, Rubysh, Senormal, SIAB Indonesia, Studio Kode, Suarise, Talent Growth, Techroka, The Self Hug, Wilov, and Yumn Healthy Eats.
"It has been an honour to have to mentor women-led startups for SheDisrupts Indonesia 2021. As an Indonesian, I am so proud to see the quality of the founders shortlisted. They are passionate, highly coachable, and have strong missions to make our world a better place to live in. The entire event was so well prepared, briefed, and organised that it went smoothly from end to end. Kudos to Team Creatella! You have created a meaningful platform that allows us mentors to be part of the founders' journey. My life has been enriched from the entire experience. Thank you!" – Donna Daritan (Mentor, Asia Institute of Mentoring)
In addition to direct access to the pre-acceleration and the Demo Day, the 24 teams have secured $10,000 worth of credits in Freshworks software products, with 3 selected startups additionally receiving respectively 250,000 Rp, 500,000 Rp and 1 million Rp's worth of internet packages by Telkomsel. A special mention goes to 2 selected startups, each awarded with one "greenlight" entry to their chosen Techstars accelerator program, and access to one workshop on design thinking by Styliff Tech. These prizes come on top of the perks offered by Hubspot, Segment and Freshworks to all 50 participants.
The winners are now headed for the intense pre-acceleration. Its rich curriculum includes (but is not limited to) 6 key modules: Impact Measurement and Management, Gender 101, Technology and Venture Building, Business Model Validation, Go-To Market Strategy and Investment Readiness. Through keynotes, workshops and one-on-one mentoring sessions, participants will refine their business and pitching toolbox, in preparation for the Demo Day scheduled to take place on Friday, August 27 in a fully virtual venue.
"Creatella's pairing with the mentors and judges are very well thought of and diverse! I was paired with Jesse Van de Zand from Moonshot Ventures who also had a founder's background in a similar industry. The session certainly helps me consider new ways of doing things. What I find so different from other coaching or judging sessions is the willingness of the mentors to go beyond the call to connect us with their network and further develop relationships for us to grow." – Tamara Gondo, CEO, Liberty Society
"SheDisrupts was amazing and well-planned! Equipped with new skills and tools, I am becoming more confident to pitch and present my enterprise." – Ika Juliana, Founder, Greenie Indonesia.
About the Organizers of SheDisrupts 2021:
IWEF
The Indonesia Women Empowerment Fund (IWEF) addresses barriers to women's economic empowerment by investing in disruptive tech solutions, led by gender-balanced startup teams.
Website: moonshotventures.org/about-iwef
Contact: info@moonshotventures.org 
Creatella Impact
For early stage social enterprises in emerging markets, committed to providing entrepreneurial innovative solutions for the achievement of SDGs by generating measurable social and environmental impact, Creatella Impact provides venture building, technology execution, mentorship, advisory support, other acceleration programmes, impact investment including financial capital, deal syndication, blended funding and diverse financial instruments.
Website: creatella.org
Contact: aileen.taleene@creatella.org 
Moonshot Ventures
Moonshot Ventures is a venture capital firm that addresses development challenges faced by emerging economies in Southeast Asia. We invest in disruptive innovations and mission-driven entrepreneurs, in order to achieve large-scale impact.
Website: moonshotventures.org
YCAB Ventures
YCAB Ventures was born out of YCAB Foundation's ambition to create a thriving world where youth and mothers are empowered through love, hope and opportunity to be liberated from generational poverty in sustainable ways. YCAB Social Enterprise uses a social investment approach in maximizing its social and economic impacts. The fund from social investment then invested in mission driven ultra-microfinance through YCAB Ventures. By providing capital to women-led ultra-micro business, YCAB Ventures aim to improve income stability in the family, leading to opportunities of better education for their children.
Website: ycabventures.com
UNDP
UN Development Programme (UNDP) is the leading United Nations organization fighting to end the injustice of poverty, inequality, and climate change. Working with our broad network of experts and partners in 170 countries, we help nations to build integrated, lasting solutions for people and planet. In 2018, UNDP Indonesia established the Innovative Financing Lab as a platform working alongside various partners to design and implement new innovative financing instruments, enhance investments for higher SDG-returns and contribute to a strong enabling environment for SDG friendly finance.
Website: undp.org
UN Women
UN Women is the United Nations organization dedicated to gender equality and the empowerment of women. A global champion for women and girls, the organization was established in 2010 to accelerate progress on women's rights worldwide. UN Women's efforts are based on the fundamental belief that every woman has the right to live a life free from violence, poverty, and discrimination, and that gender equality is a prerequisite to achieving global development. WeEmpowerAsia is a UN Women programme funded by and in partnership with the European Union that seeks to increase the number of women who lead and participate in business in China, India, Indonesia, Malaysia, the Philippines, Thailand and Viet Nam.
Website: http://weempowerasia.org
Citibank
Citibank is the financial subsidiary of Citigroup. Through our core business and philanthropy, we address some of society's greatest challenges—an imperative stated in our mission and an idea that shapes our decisions every day.
Website: citibank.org