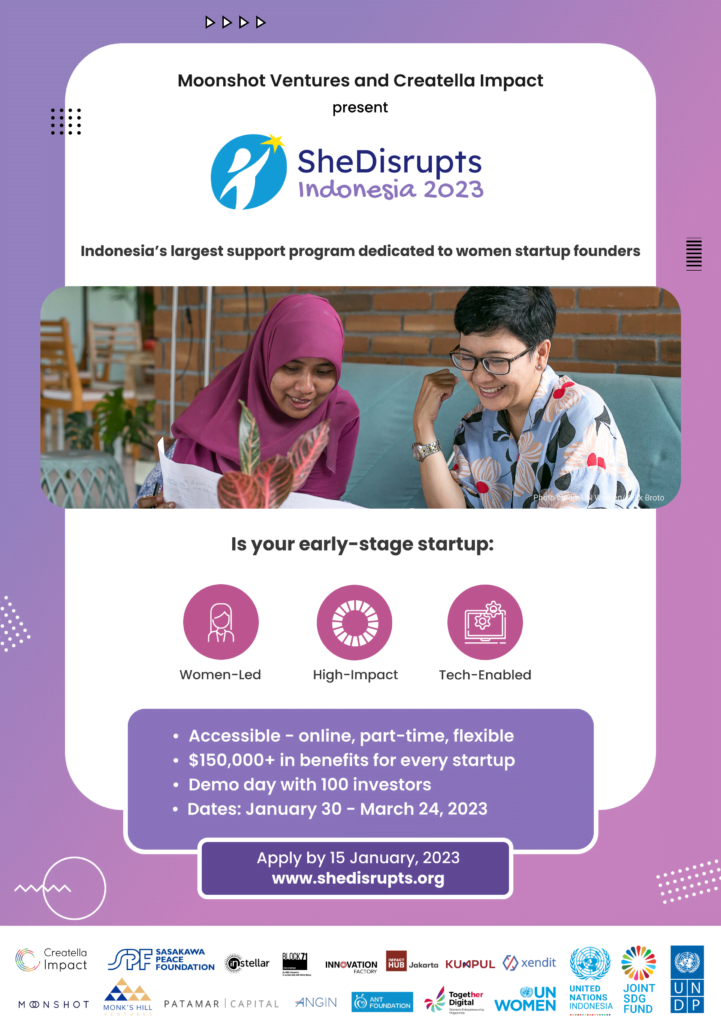 The future of entrepreneurship in Southeast Asia is digital, impactful, and powered by women, as much as men. Challenging gender norms with this vision, and after successful inaugural cohorts in Indonesia, Vietnam, and the Philippines, SheDisrupts returns to Indonesia for a second cohort of its groundbreaking support program for women-led startups.
Applications to SheDisrupts Indonesia 2023 are now open at shedisrupts.org
Women Entrepreneurs Face Greater Barriers
Women founders face greater barriers compared to men to launch and grow their startups. Among others, women typically struggle with gender biases, time and mobility restrictions due to traditional family roles and skill deficits, as well as less access to senior business networks. Those who are able to overcome these hurdles must then contend with a stark lack of funding and appropriate support for their fledgling businesses. Women-led startups receive only a tiny fraction of the venture capital funding available, and typically less than 1 in 5 participants in accelerators and incubators are women, with most programs not catering to their particular needs. As one of the largest programs in Indonesia dedicated to supporting women-led startups, SheDisrupts addresses these gaps.
"With less than 5% of venture capital funding in Southeast Asia going to women-led startups, and as one of the most active impact investors in Indonesia, Moonshot Ventures is focused on addressing this issue and supporting Indonesian women founders.
SheDisrupts is unique in being designed around the distinctive needs of women entrepreneurs, in bringing together the best features of top global startup programs, and in representing such a broad coalition of cross-sector partners working together to support Indonesia's emerging women leaders and changemakers," commented Tom Schmittzehe, Managing Partner at Moonshot Ventures.
Program Partners From Across Sectors
The program is made possible by a partnership of organizations across the public, private, and nonprofit sectors, who share a commitment to promoting women entrepreneurs. Spearheaded by Creatella Impact and Moonshot Ventures, two regional impact investors, SheDisrupts Indonesia 2023 is supported by global and regional champions of gender equality and women's empowerment including the UNDP, UN Women, and the Sasakawa Peace Foundation. These are joined by leading investors and tech corporations from around the world, including Techstars, AWS, Stripe, Hubspot, Google, and Oracle – as well as major regional players like Monk's Hill Ventures and Xendit.
Over 30 such partners have already contributed to SheDisrupts in a variety of ways. This includes via their employees who volunteer to mentor the entrepreneurs, or to conduct training on pertinent topics, such as product development or impact management. Partners also provide generous perks and prizes to the startups, and help to fund the program.
"SheDisrupts is deeply collaborative, integrating inputs from a number of partner organizations who offer their expertise and resources to the participating teams. The model has been tested and liked by startups in Indonesia as well as other countries. We consistently incorporate feedback, refine our offer with innovative elements to be the partner of choice for the women led social impact startups in their acceleration journey.," remarked Karen Vardanyan, Co-Executive Director at Creatella Impact.
A Program Specifically Designed For Women Founders
"Here at The Sasakawa Peace Foundation, we believe in promoting women's empowerment through entrepreneurship and gender-lense investment, as investing in women creates multiplier effects and unlock the untapped resources, joining the force to make the world a better place. Therefore, through SheDisrupts Indonesia, we hope to support more women-led businesses to thrive and create more sustainable impact for the society," stated Ayaka Matsuno, Director of Gender Investment and Innovation Program at The Sasakawa Peace Foundation.
In response, SheDisrupts is a startup support program specifically designed around the needs of women entrepreneurs. Based on their extensive feedback, the program includes a range of distinguishing features. For instance, it is run online and part-time, to allow flexible and remote participation. It offers more emphasis on skills development, with up to 4 weeks of training across a range of essential startup topics and delivered with greater weight around collaborative team-building. And – among many other women-first features – it includes much more mentoring, from up to 100 business leaders, mostly women.
"We need a game changer in order to reach gender equality and to empower women, disruptive technology and innovation fits the bill," said Dwi Faiz, Head of Programmes, UN Women Indonesia. "Through our Together Digital Programme, UN Women is excited to support this competition that provides opportunities to innovative women-led start-ups to find new solutions to existing challenges and enhance sustainable and profitable business models to empower women."
SheDisrupts also helps open the doors to investment opportunities for its women founders. In addition to $150,000 of in-kind perks and prizes offered to every team, the programme includes multiple occasions for the entrepreneurs to showcase their businesses to investors, such as via the Demo Day where over 100 selected investors are invited to watch live pitches from participating startups.
"It's essential that more women entrepreneurs are encouraged and supported at the beginning of their startup journeys, and introduced to potential future investors – it's at this very early stage that women founders can benefit the most," affirmed Susli Lie, Partner at venture capital firm Monk's Hill Ventures. "When I was a startup founder, there were no tailored programs for women entrepreneurs in Indonesia. Today, as a VC investor, I am even more convinced of the need to support and encourage more women founders to pursue their entrepreneurial journey."
The structure of the program is also original. It builds on global best practices and combines elements of different types of support programs. Over 3 months, a cohort aimed at an initial 200 women-led startups are guided through 3 distinct phases. Founders must meet performance hurdles to graduate from one phase to the next – but every team that applies automatically qualifies and benefits from the first phase. This first phase is similar to a venture competition, with support focused around how best to pitch to investors. The second phase shifts its focus to extensive mentoring around each startup's most pressing strategic and operational needs. Then a third phase resembles an accelerator program with up to 4 weeks of cohort and team based skills training that ends with a Demo Day, where the founders pitch their businesses live to investors. 
Focusing on the importance of women's empowerment in economic development, Nila Murti, Officer-in-Charge, Innovative Financing Lab said, "Women are one of the key drivers in formalizing the country's economy, especially from the increased participation of women in the SME sector. Continuing from the success of She Disrupts Indonesia 2021, coupled with growing entrepreneurial spirit among women, it is vital now more than ever in fostering collaboration between women founders, especially in increasing their awareness of the importance of placing sustainability and impact within their businesses and in their entrepreneurial journey. As the 2030 Agenda closes in, She Disrupts Indonesia 2023 plays a part in pushing women founders towards creating impactful contributions to Indonesia's sustainable development, building back from COVID-19, and towards the SDGs."
How To Apply
Applications to SheDisrupts Indonesia 2023 are now open until January 15, 2023. The program will run from 30 January, 2023 to 24 March, 2023 – and teams can learn more and apply at shedisrupts.org.
SheDisrupts Indonesia is open to early-stage startups with at least one woman among the founders or in a leadership role. They must have a clearly developed product idea and some traction, and target Indonesia as their primary market. Also, their commercial solutions need to be tech- or innovation-driven, and contribute to one or more of the UN Sustainable Development Goals. However, the program is industry agnostic – teams may come from domains such as health-tech, edtech, fintech, sustainability – or any other.
Women entrepreneurs are encouraged to apply from rural provinces and cities beyond Jakarta, as well as from minority groups.
— — —
About the Organizers and Partners of SheDisrupts Indonesia 2023
Creatella Impact
For early stage social enterprises in emerging markets, committed to providing entrepreneurial innovative solutions for the achievement of SDGs by generating measurable social and environmental impact, Creatella Impact provides venture building, technology execution, mentorship, advisory support, other acceleration programmes, impact investment including financial capital, deal syndication, blended funding and diverse financial instruments.
Website: creatella.org
Contact: programs@creatella.org
Moonshot Ventures
Moonshot Ventures is an impact investor with a mission to address the leading social and environmental issues faced in Southeast Asia today. To achieve this, it supports purpose-driven founders and startups, and works with them to build innovative and disruptive solutions. The support provided is focused around investment, venture building and in-kind assistance programs. A leading focus of Moonshot Ventures is in supporting women entrepreneurs and solutions that improve livelihoods for women.
Website: moonshotventures.org
Contact: dinda.hervi@moonshotventures.org
The Sasakawa Peace Foundation (SPF)
SPF is a Japanese private foundation established in 1986 to enhance international cooperation. In 2017, SPF announced the formation of the Asia Women Impact Fund (AWIF), which aims to invest up to USD 100 million from its endowment to work towards a future where all women in Asia are empowered to reach their full potential. The fund aims to realize this vision by making investments to achieve favorable outcomes for women across Asia and to support women entrepreneurs in Southeast Asia.
During the program, the Gender Lens Incubation and Acceleration (GLIA) Toolkit developed by SPF and DFAT Frontier Incubators, will be used.
Website: SPF https://www.spf.org/en/ , AWIF https://www.spf.org/awif/
UN Women
UN Women leads UN's advocacy to further promote gender equality by enhancing women's economic empowerment, ending violence against women and girls and improving women's access to justice, and making gender equality a key part of the national legal framework, policies and plans.
Website: https://www.unwomen.org/
UNDP
UN Development Programme (UNDP) is the leading United Nations organization fighting to end the injustice of poverty, inequality, and climate change. Working with our broad network of experts and partners in 170 countries, we help nations to build integrated, lasting solutions for people and the planet.
Website: https://www.undp.org/
Monk's Hill Ventures
Founded in 2014 by entrepreneurs Peng T. Ong and Kuo-Yi Lim, MHV is a venture capital firm investing in early-stage tech companies, primarily Series A, in Southeast Asia. Backed by institutional investors and family offices worldwide, MHV works with great entrepreneurs to use technology to improve the lives of millions of people in the region.
Website: https://www.monkshill.com/